If you're having trouble reaching leads , you may want to look into our WordPress SMS notifications plugins .
Here at WP Buffs, we help website owners , agency partners , and freelancer partners install, integrate and optimize SMS plugins.
Keep Your Customers Happy With Automated SMS Order Notifications
Send SMS updates to customers when their order status is updated and receive an SMS alerts when a customer places a new order by using Twilio SMS Gateway and this WordPress Add on.
Why offer SMS Order Updates?
Simple – it's the best way to give customers information about their order. According to Frost & Sullivan, SMS messages have a 95% open rate and most are read within 5 seconds. This is three times better than email and can be far more personalized. For example, you could customize the "Completed" status SMS message to include a coupon code for 10% off the next order. Get creative and watch your sales soar!
The customer will receive the SMS right into their mobile numbers they already submitted while checking out.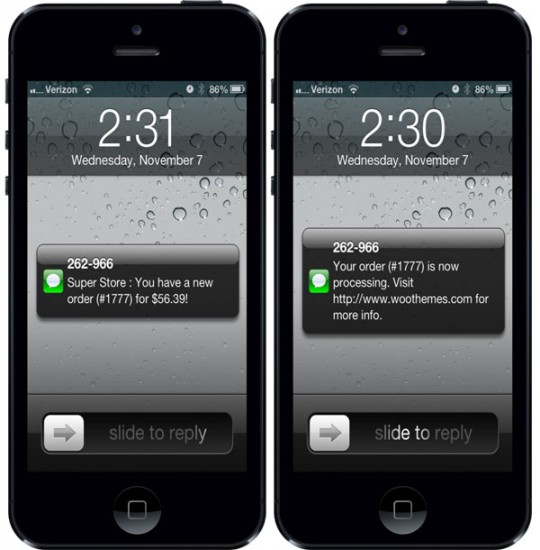 Powered by Twilio SMS gateway
This Sms plugin for WordPress is designed to work with Twilio, the premier cloud communications service, with support for over 40 countries. All you will need to is to sign up for a free Twilio account if you don't already have one. Outbound SMS messages start at just 1 cent in the US. You'll get a cutomized international Mobile number.
The Sms plugin will generate the triggers to send SMS to your store custmerds.
For starters, 90 percent of SMS are read within three minutes of being sent

Additionally, SMS have resulted in impressive Returns on Investments (ROIs) as high as 680 percent .
Keep Your Customers in the Loop using this awesome SMS plugin
Text messages get read more than any other form of communication. Ensure that customers receive information they want by offering text message order updates. Customers can opt-in to SMS updates by checking a box during checkout page. Once they opt-in, they'll receive an SMS when their order status changes. (Completed,On hold,Paid, Cancelled, Delivered..)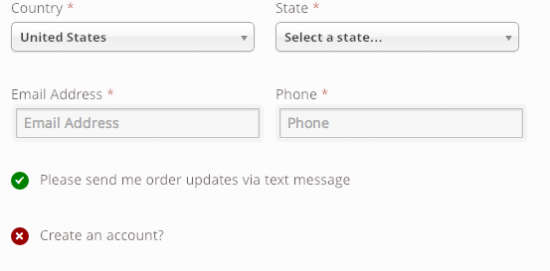 You can even send messages for your custom order statuses created with Order Status Manager! For example, let customers know when an order has been updated to your custom "shipped" status, and you can even customize the text used for your custom statuses.
Powerful Customization
You can change which order status changes will send updates to customers and customize SMS notifications using SMS templates to include store name, order ID, order amount, order status, and other order data along with your custom text.
You also have the option to automatically shorten URLs within messages using Google's URL shortener.
You can easily test what customers will see when they receive a message from you right from your Twilio settings page.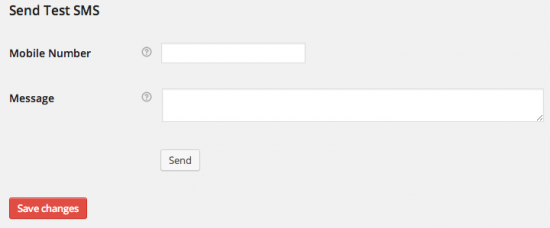 Get Insight into Every Order
Send SMS updates to your customers directly from the Edit Order screen. A handy character count is shown so you don't go over the 160 character limit for SMS alerts. Customers don't need to have opted-in to SMS updates for you to send them an SMS.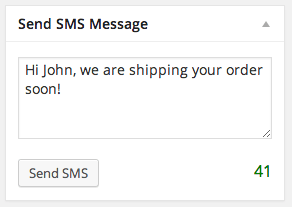 See the status of every Custom SMS sent to a customer by viewing the Order Notes for their order. See the message that was sent and the status. Any errors will appear here to help with troubleshooting.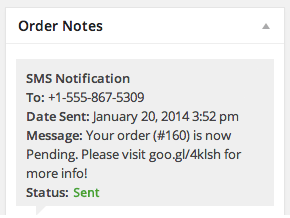 To find if Twilio works in your country and to get additional pricing information please visit the
Twilio SMS Pricing page
.
How to Get Started
Buy this extension : WooCommerce order SMS Notifications Plugin
Download Woocommerce Plugin and install into your WooCommerce store
Login to your Twilio account (sign up for Twilio if you don't already have an account) and grab your Account SID & API key Auth Code
Add your Twilio info to the extension settings page
Go to WooCommerce SMs notification plugin Tab
Customize Custom SMS template and phone number field
Click Save
That's it! Sit back and enjoy automatic SMS updates!
This is the best plugin if you want to boost your business through MobileSMS Marketing.
WordPress SMS Marketing Plugin WordPress SMS Marketing Plugin is the fully integrated plugin for the WordPress website.
This plugin will enhance your business by SMS marketing.WordPress SMS Marketing Plugin is very easy to install and use.
Final Thoughts on WordPress SMS Plugins So now you know SMS Marketing Plugin is the best tool to grow your business. By using custom SMS Marketing Plugins you will remove the communication gap and you can target the mass number of people with just one click.
56% said that they prefer those communications to be done via message instead of a phone call. (premium.wpmudev.org)
SMS Marketing for WooCommerce Guide
If you want your WooCommerce store to benefit from text marketing's 45% conversion rates, read this guide.
If you think about it, e-commerce marketing is like playing, "Where's Waldo?" Waldo is your ideal customer someone who needs what you're selling. Everyone else surrounding him is not your target market. Your job is to convince Waldo to purchase from you.
Most brands acknowledge this and then apply a spray and pray approach to reaching their version of Waldo anyway. They run Instagram ads with special offers to broad audiences and send a bunch of emails to a barely-engaged list.
They cross their fingers and their toes. Meanwhile, everyone not named Waldo feels like this.
For years, e-commerce stores got away with this. Sure, it was inefficient, but the economics still worked.
WordPress SMS Marketing Plugin by promotionking
Unlimited Benefits our sms marketing plugin tool have a very high open rate very high conversion rate cost effective and very affordable inexpensive very user-friendly usage is effortless very speedy – delivers on time easy customization and personalization available more than 35,000 small and big customers across the world are using our plugin boosts business and companies with bulk sms marketing Building Customer Relationships pre order today and start earning via offering mobile sms marketing Affordability Efficiency Improved Security Easy Marketing Personalization of Messages more than 3 sms gateways new look and feel reach your customers 24/7 customers prefer wp sms marketing plugin Manage easy opt in / opt outs automated messages easy usage and handling daily reporting detailed analytics schedule your campaigns sms surveys short codes integrate with any plugin web to sms Note A cron URL file is required to get that plugin functional.
Need any more reason to buy? When you purchase a WP SMS Add ons bundle you're getting all the add ons included.Bulk SMS, Contact Form 7 SMS, EasyDigitalDownloads SMS, WC Bookings, Customer SMS, WooCommerce SMS notifications
Gain peace of mind by knowing that when you purchase our products, your store's performance is as important to us as it is to you.
Buy Today SMS Notification plugin for WooCommerce